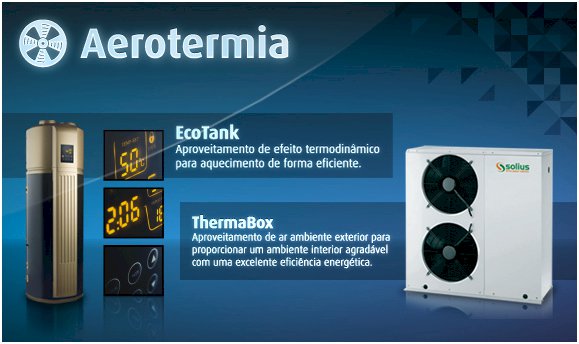 Heat Pumps
Solius
Natural energy

The thermodynamics shows us that the environmental exterior air can be an abundant source of energy even on the coldest days. Its intelligent use with resource from aerothermic heat pumps was recently consecrated as "renewable energy" by the European Parliament.
The heat pumps have a magnificent energy use in the heating of water for all utilities and for the environmental heating.

Perfect integration

The integrated solutions of the Solius renovated heating are characterized by the harmonious functioning between all the components of the thermic system and the solar energy, of biomass and environmental heating and sanitary waters.

Advantages

Energy is received from the environment without costs, enabling a high energetic efficiency.
A system which is adaptable to the clients needs for both heating and cooling, heating of sanitary water as well as pool heating.

Free of maintenance

The absence of combustion avoids cleaning and common check ups necessary in other central heating systems
Thermabox (Reversible)
The Solius Thermabox is presented as the adequate solution for who ever is looking to have air conditioning at home using clean energy. This allows for heating and cooling of the environment, heating of sanitary waters and pool heating.

The environmental air has large energy reserves which the advanced technology of the Solius Thermabox is able to utilize and transfer to the interior of the property, providing a pleasant environment with an excellent energy efficiency.

Equipped wit a Copeland compressor which ensures heating up to 50ºC (with outside temperatures up to 0ºC) and works with exterior negative temperatures up to -10ºC (impulsion temperature of 40ºC).

It includes exterior temperature sensor and allows the climate regulation either in heating mode or cooling mode. The sanitary production is guaranteed through out the year as a priority.

Its monoblock construction allows for a simple installation with only one exterior unit with shut freezer circuit, without the need for copper installations or vacuum application nor additional gas charges.
Thermabox (High Temperature)
The stupendous performance of the Copeland EVI ZH compressor ensures heating up to 65º (with outside temperatures up to -12ºC) and works in extreme exterior conditions up to -20ºC (impulsion temperature of 45º).

It includes exterior temperature sensor and an interior environment thermostat which allows climate regulating in all heating stations as well as the priority heating of sanitary waters.

Anual heating for the replacement of the boiler through a Solius High Temperature Thermabox. Heating pumps reduce the energy consumption of the heating system being via floor heating or radiators

With the double temperature setpoint the impulsion for heating of the environment and for the sanitary heating has different adjustments to ensure maximum efficiency in each use.